A person's workplace is a crucial part of one's life. It not just provide your source of livelihood but it's a place where a person spends maximum time after his family. But what about a situation where in an individual face disrespect and bullying at your workplace incessantly. You are constantly demeaned, feel low esteemed, depressed, feel pressure and emotionally hurt. It is evident from various studies that bullying at you work place not just affect your mental health but also your physical health. Apart from mental illness such as depression, anxiety, stress, insomnia and emotional exhaustion, people do encounter with heart disease, eating disorder, diabetes, gastrointestinal disease and cancer.
How To determine You Are facing Workplace Bullying?
When your work and performance are constantly undermined.
 
You are subjected to critisism at meetings.

You are constantly crused, threatened and humiliated.

Your boss doesn't give you any opportunity for improvement,learning or skill development, while your colleagues are given the same without hassle.

Unnecessary and false rumours are spread against you. 

You are being ignored from social events.

You are forcefully or suggested for transfer to different departments against your will.

You are given more work pressure than others. 

You are treated unfairly with the aim to exclude you.

You face targeted practical jokes. 

Your work is excessively monitored.

You are mislead on targets, deadlines and or unclear direction.

Denied of time off or leave request without any valid reasons.
Bullying doesn't only mean verbal or physical, it can also include text, email, via social media, by letter, phone or face to face.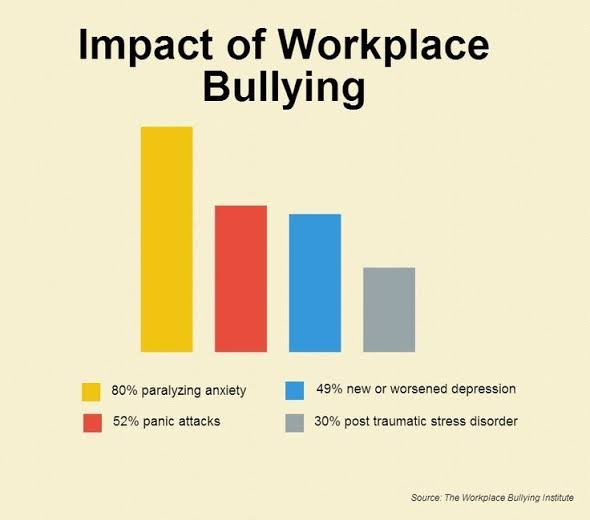 How does Workplace Bullying Affect Mental Health.
Workplace bullying leaves internal scar on one's mind. It is evident that individual experience sleep disorder, anxiety, depression, high blood, severe psychological stress, pressure, headache, gastrointestinal disorders, pain, emotional hurt and develop psychosomatic disorders due to workplace bullying. When one is reminded of any of the event of bullying, individual face lots of distress with painful memories brought back to life once again. Bullying are the negative situation which weakens individual mental state and make them more vulnerable.
People don't always get what they deserve in this world. But victims of Workplace Bullying think they deserve it.
Victims of workplace bullying are always under valued and eventually they start to accept that there is something wrong in them for which they are treated so unfairly. They loose their mental and moral strength. They develop a feeling of shame. They encounter behavioral disorders. They start demolishing their self image and self blaming becomes perceptible in their daily life.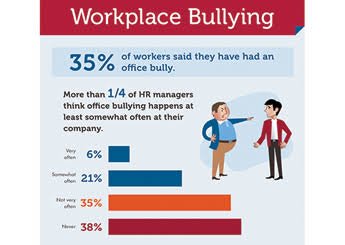 Psychosomatic disorders develop quite early with the commencement of Workplace Bullying.
Remaining under constant pressure and humiliation at your workplace trigger lack of concentration, sleep disorder, panic attacks, mood swings, anxiety, despair, depression, and fear. They experience gastric reflux, headache, chronic hypersensitivity to loud sounds, cardiac and respiratory complaints, body pain and high blood pressure. They always remain under constant fear. It is seen that good work environment heal their mental state soon.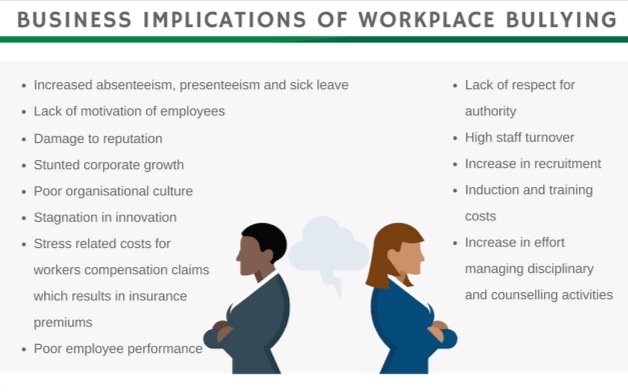 How To Cope With Workplace Bullying Effectively?
Never underrate yourself at the first place. 

If someone is undermining you take a step further to report it to higher management or supervisor.

If changing job is not an option for you, then focus on your current Job with a better perspective.

Never endure workplace bullying as as something which you deserve. Always believe in yourself and your ability. Even most efficient employees can get impacted.

Focus on making employment decisions that will be beneficial towards your physical and emotional health.

Take self care on priority.

Remember no one is born efficient and skillful. These can be gained by proper training and work environment. Put emphasis on your management to focus on the same rather than bullying. 

Take care of your health by eating right and excercising good. 

When you are not working focus on any activity or any event which you enjoy.

Limit from thinking too much about workplace stories that hurt you emotionally.

Focus on healthy stress reliever. 
Lastly If you or your loved are suffering from psychological and emotional stress and they are not able to cope up by themselves psychotherapy can always help to get out of these challenges.
Has Anxiety and Depression Taken a Notch over you Due To Workplace Bullying?
A talk therapy session and psychological consultation on Anxiety, Stress and Depression management can definetly help you to heal your minds in a better way.
Find solution at Athena Heath Care Services, speak to our experts
YoTalks provide Talk therapy sessions to solve emotional problems by our professional experts at your own convenience. We offer live chat sessions, video session, audio session and follow up sessions.
Contact: Toll free Number- 18001020473
Visit Website: http://www.yotalks.com